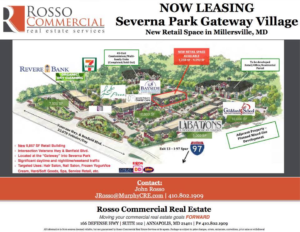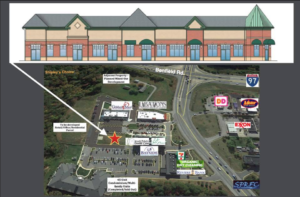 Annapolis MD (October 19th 2016) — Rosso Commercial Real Estate is pleased to announce the first Tenant has been signed for a brand-new retail building located at Severna Park Gateway Village in Millersville MD.
Bliss Nails and Spa, a multi-unit upscale spa operator signed a 10-yr lease for a 2,516 SF retail space at 8533 Veterans Hwy, within the 12-acre "Severna Park Gateway Village" mixed-use project.
Bliss Nails and Spa will be opening their new unit in a new 10,000 SF single-story retail building, scheduled to break ground in November 2016.
John Rosso of Rosso Commercial was engaged to pre-lease the new construction retail space and represents the Landlord, Veterans One, LLC. There are three spaces remaining with sizes available from 1,250 SF up to 4,750 SF. Other Tenants at the project include The Goddard School, Ledo Pizza, Arundel Pediatric Dentistry, Bayside Physical Therapy, 7-11, Revere Bank and Libations Bistro.
***
Rosso Commercial is a full service commercial real estate firm headquartered in Annapolis, MD, serving the greater Annapolis-Baltimore-Washington region. Our goal is to provide the highest level of service and professionalism in our industry and cultivate long-lasting relationships.